Moving changes many things, but my recent move one block west – to a building on the corner of Broadway on Manhattan's Upper West Side – not only gave me a new home but a dramatically different morning walk to work. It does not take much time, rarely more than 25 minutes at my usual pace, but Broadway's charm is a reminder of the subtle beauty of New York, a pleasantness that can be too-easily overlooked in daily life.
As recently as three weeks ago, my "commute" consisted of a straight walk down Amsterdam Avenue until its intersection with Broadway at 72nd Street, and then a slight zig-zag onto Broadway for the remaining few blocks. Amsterdam, and its alter ego 10th Avenue, is an artery for Manhattan generally and the Upper West Side in particular, with traffic that is likely much heavier than its more famous neighbor. It is a rather functional street, and though there are commercial and residential buildings lined up along most of it, there is also a uniformity to it that can become numbing. On a cold winter morning, walking south past the seemingly-endless series of bars and now-pricey, early-20th century walk-up apartment buildings, its only pleasant feature is that it is downhill. Ahead, in the distance, is an endless horizon, but without even the modern-romantic skyscape presented by Park Avenue in Midtown – with its site-line breaking Helmsley and PanAm buildings, and lined with the likes of the Seagram Building – or the beautiful architectural mishmash of the "Canyon of Heroes" in Wall Street.
Broadway is altogether different. As it snakes its way up and across Manhattan it takes a jagged route, consistently cutting at slight angles every 10-or-so blocks. The effect of this is to create a series of long but concluding vistas, long enough for the eye to see detail in the distance, and interrupted by buildings that sometimes appear to be in the middle of the street. Moreover, while many of the buildings lining Broadway are similar in nature to those on Amsterdam – low buildings of 6 stories, with entryway or commercial fronts – it has its share of interesting architecture, even in the ugliest of buildings. Walking to work this way offers something new for the eye and the mind every day.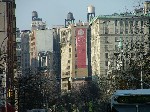 From 88th Street, the view south is dominated by the notched design of pre-war apartment buildings, topped with the City's increasingly-rare wooden water towers, and a slice of advertising along the side of one exposed wall. The water towers, poking out into space from atop New York's buildings like 19th century spaceships ready to take off, stand in odd contrast to the cool elegance of many of the buildings they serve. Walking in New York, I have often wondered whether the careful but understated architectural flourishes adorning the upper floors exist for the benefit of those of us down on the street below – where they can be difficult to see – or if these were incorporated for the sake of one's neighbors high up and across the street. After all, why should someone on the 12th floor suffer a boring brick view? In the distance amidst the trees can be seen the spire of the church that dominates the corner at the 79th Street crosstown intersection.
Ten blocks further south Broadway opens up to what I consider one of New York's great shots, with the beautiful, palatial Ansonia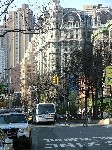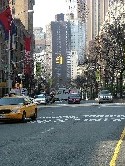 straight ahead. The Ansonia is one of those New York buildings about which Upper West Siders speak with reverence for its elegance (though it's unclear that this elegance still extends to the apartments inside), and indeed it looks glorious with its arched top-floor windows capped by another set of arches defining sections of the building – and the rounded corner windows defining its proud place on the street. Step to the median defining the middle piece of this section of Broadway, and the view changes: smack in the center is a modern building occupying the southern corner, where Broadway and Amsterdam merge and re-divide. An ugly red brick effort at Modernism, I nonetheless appreciate the architects' effort to make use of their corner location, creating a kind of beveled, cut-away front to the building and filling it with windows; at its base, this cut-away corner becomes the building entrance, with a small garden and fountain filling part of the space in front. Although the building itself looks unappealing, I find this entrance to be one of the most calming in the City. When you reach the building, and turn around from its front to look north up Broadway, the architects' intent becomes even clearer: ahead is the lovely old station house for the subway stop at 72nd Street (with the rebuilt station behind it), and the massive fortress-like building inhabited by Apple Bank. Those cut-away windows surely offer lovely views!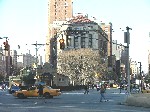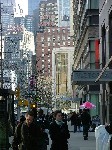 At 68th Street, shifting to the south-west side of the street, Broadway changes all over again, and walkers can begin to get a sense of the commercial energy that exists up ahead. For the first time, real skyscrapers are visible over the horizon, their bases and true locations obscured by the buildings in front. Modern(ist), glass-sheathed spaces become more common; electronic signs hint at what will be further south, in Times Square, although the Hotel Empire's bold red name looks quaint across from the changing "Biography" marquee. Ahead of both, a corner of a New York landmark juts out, asserting itself: Lincoln Center's travertine and glass facade.
This is where my walk usually ends – and it is probably a good time to get off the sidewalk most days. Broadway further south only gets more congested, the street narrows a bit, and the tree-lined median disappears. Beyond lies a slightly different world; not better or worse, just different, another New York entirely, one that I love with equal energy and emotion, but which I am also happy to have sitting just out of reach, over the horizon with those big skyscrapers, on most days.