STOT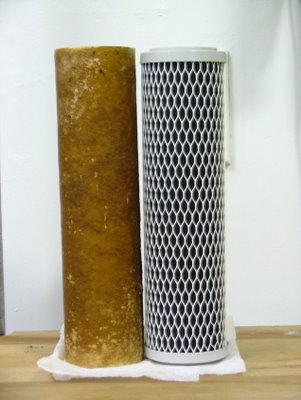 That stands for
So Tired of This
. "This" being Blogger and the failure to "publish" properly.
***

Based on the web traffic, one of the most popular set of posts I've ever written are the
three
items
about
my
Kenmore 2-Stage Drinking Water Filter, Model #38461
.
The issue was that I wanted to buy it - but that no one at Sears was able to tell me what the model numbers were for the replacement cartridges. Eventually, having posted about this publicly, I got a (nice) response from Sears and the information I needed. I bought the filter, had it installed, and have used it happily ever since.
That was about 11 months ago. Since then, I have been pleased with the filter with the noticeable improvement in water quality. We've used the filtered water for everything from baby formula to making rice to just-plain-drinking. Only now, months later, has the quality started to suggest we should change the filter. (The unit comes with a built-in, six-month timer - but at the six month mark, the water quality was fine, so we didn't change anything.)
***

Like I said, I knew the filter was working. Changing the cartridges gave an additional level of proof. For the last *week* I have wanted to post this item plus a photo of the cartridges I removed from the filter - which showed a terribly dirty, rust-colored sediment cartridge (model #38480) on the left, and a less-visibly dirty "taste and odor" cartridge (model #34373) on the right.
Blogger, however, has been having fits and won't actually publish the post correctly - either because of the photo or because of the "labels" - so I am resorting to a more fool-proof method. You can now find that photo here. The "label" for this post? "Shopping."
So, now I can say - with further proof - if you're looking for a good water filter for your sink, this model works well.
***

UPDATE AS OF 16 MARCH:
1. If you're seeing this post, with the image at the top and the "shopping" label at the bottom, that's a good sign. It means the system really is working for me again.
2. As I said before ... if you're looking to publish a blog, well, Blogger still needs some work. If anyone from Blogger is reading this, I am happy to discuss the problems I have faced for several weeks now - which have been resolved, no thanks to Blogger. More on that to come from me shortly.
Labels: shopping