NYSIF (Problems of Privilege)
If you employ a regular babysitter, you are supposed to report their income and pay a portion of their taxes, or else. (Remember "Nannygate"?) It's expensive but, hey, business opportunity! Care.com-HomePay-Breedlove offers to ease the way, and if you can afford their services, they do just that. (Unpaid endorsement: they are great to work with.)
In New York State, however, you are also required to carry worker's compensation insurance. And this is where both the bureaucracy and the law are what is politely known as a fucking mess. Not only do you have to have insurance or face stiff penalties…you then have to endure an endless stream of paperwork and reports designed for businesses with hundreds of employees, not a single household worker.
I just received the renewal for another year of coverage through the New York State Insurance Fund (NYSIF). And I once again find myself frustrated by the insanity of the process and the opacity of NYSIF. Which reminds me of a letter I sent to the Fund's Executive Director and CEO, Eric Madoff, in 2014. It still says it all.
Look, I think worker's compensation insurance is generally a social good. I support the idea of these social safety nets, and I pay my "nanny taxes" because I believe in these systems–in the abstract. But the practical application of them is the sort of thing that drives people to the cause of smaller government.
Oh, and the renewal price? $780. That's a 27% rate increase in just two years. What's the current rate of inflation in the U.S.? Never mind, don't answer that.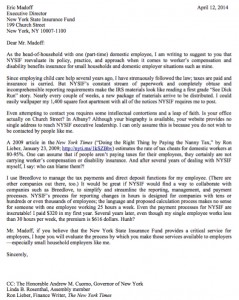 P.S. Ron Lieber's 2009 New York Times article on the subject remains relevant and worth reading.